IBS Tales Home > Sophie's Story
my new ibs book, sophie's story, is now available!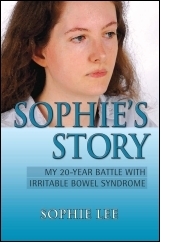 As seen in Ladies Home Journal magazine!
What people are saying about Sophie's Story
"When I started reading Sophie's book I thought, 'This should be required reading for every gastroenterologist.' By the time I was halfway through, I thought, 'This should be required reading for every human being walking on this planet!' This book is a must-read! It will make you laugh, but more importantly it will validate every thought or feeling you have ever had about living with IBS." Dr Barbara Bolen, IBS Expert
"Sophie has a great skill in storytelling; as you read her tale you feel like she is talking directly to you. I applaud Sophie for sharing details that are difficult to talk about, let alone publish. We are fortunate to have such an articulate, smart and witty author and fellow sufferer." Jeffrey Roberts, Founder of the IBS Self-Help Group
"This is simply the best book about IBS that I have ever read. For the first time in 21 years I have finally read a book from someone who actually knows how it feels to have IBS. Your experiences are exactly the same as mine - down to every single thought. I feel that at least one person in the world understands, and I finally realize that I'm not insane or a wimp who is not capable of enduring a 'little pain'. If you only read one book about IBS in your entire life, then read this!" Jens, Amazon.com
"This is the best book about IBS ever. I read this book on vacation and couldn't put it down. Sophie tells her story like she's sitting next to you and you feel like holding her hand and nodding the whole time. She would understand why I wasn't eager to take that bus tour. She wouldn't be upset if I had to bolt away from the dinner table. She would commiserate about all the money wasted on useless treatments. If you are an IBS sufferer, or know someone who is, you MUST read this book." Mab, Amazon.com
About the book
Sophie's Story chronicles my entire IBS experience, from horrific food poisoning at the age of 12 through to my recent years of good health. It describes the long years of battling with the symptoms of intense pain, diarrhea, bloating and constipation that we all know so well.
It also describes the many doctors who were dismissive and patronizing, and the battle all IBS sufferers fight against people who believe that IBS is "all in your head" or a mild problem that causes a bit of a stomachache and nothing more.
A story of hope
Sophie's Story shows how IBS affected everything from my career to my social life to my self-esteem, but it is also a story of hope. After a number of false starts and failed treatments, I discovered a diet and supplement regimen that worked wonders for me. I hope this book can encourage other sufferers to keep searching for relief, however tough things get.
This book gives a no-holds-barred, unembarrassed account of what it is really like to suffer from IBS, from someone who is (unfortunately!) a genuine expert on the subject. It also offers my thoughts on coming out of the IBS closet and the Top 10 Stupid Things Said to IBS Sufferers.
Many of you will have already heard of my publisher, Health Point Press, as they were behind the acclaimed book A New IBS Solution by Dr Mark Pimentel, which explained the fascinating theory of small intestinal bacterial overgrowth (SIBO).
how to order sophie's story
united states orders

Option 1: Amazon.com paperback: Buy Sophie's Story from Amazon.com
Option 2: Amazon.com Kindle edition: Buy Sophie's Story (Kindle edition) from Amazon.com
united kingdom orders

Option 1: Amazon.co.uk paperback: Buy Sophie's Story from Amazon.co.uk
Option 2: Amazon.co.uk Kindle edition: Buy Sophie's Story (Kindle edition) from Amazon.co.uk
everywhere else
Customers worldwide can now order Sophie's Story from the Book Depository, the UK's largest dedicated online bookseller. They offer free shipping to most countries, they accept Paypal and you don't have to register to use the site.
Buy Sophie's Story from The Book Depository
Are you interested in writing? You can hire a professional essay writer at AdvancedWriters.com to have your short story written.
are you on facebook or twitter? can you help spread the word?
Why not take a look at Sophie's Story on Facebook? Please press the "like" button below to help spread the word - or just go direct to my Facebook page.
Or if you prefer to use Twitter, just use this button to make a Tweet!
Tweet
any questions?
If you have any questions about the book or the ordering process, please contact me directly, and I'll get back to you ASAP.
take a sneak peak at the contents and introduction
Here's a quick look at the contents page and introduction from Sophie's Story...
Contents
Acknowledgments, vii
Introduction, 1
1. A Difficult Beginning for a 12-Year-Old, 3
2. Surviving School and University, 11
3. My Diary, 21
4. IBS Experiences Around the World, 29
5. Finally Seeing a Gastroenterologist, 37
6. Clinging to My Job, 49
7. Hypnotherapy, Gluten, Fiber and Magnesium, 57
8. Coming Out of the IBS Closet, 67
9. New Job, New Home, Old Guts, 87
10. Money Worries and Intestines in the Media, 95
11. On the Blog, 103
12. The Emotional Effects of IBS, 111
13. Food Intolerance and Bad Bugs, 119
14. On the Blog, Part Two, 129
15. Relief at Last, 139
16. Remedies I've Tried, 145
17. Top Tips for IBS Sufferers, 153
About the Author, 158
Introduction
I've had irritable bowel syndrome for 20 years. For most of my life I have lived with urgent diarrhea, horrible constipation and agonizing stomach pain. I have spent whole afternoons in the bathroom, and on my very worst days I have endured vicious attacks that left me shaking, sweating and scared.
I have regularly broken down in tears because my symptoms were so unforgiving and so constant. I have lost friends because I had no way to explain why I was so reluctant to go on holiday or eat certain foods or plan things in advance. At one point I nearly lost my entire career. I've been told that my symptoms are all in my head and that I should ignore them and get on with my life. While I saw IBS as a nightmare, my doctors saw it as a minor inconvenience.
And I'm not alone. Millions of other IBS sufferers all over the world share my experiences.
This book chronicles my long battle with IBS. It gives me the chance to explain that IBS is a difficult, embarrassing and painful experience. If you or someone you love is a fellow sufferer, I'm so sorry you have to deal with this too. When the world tells us that IBS is a psychological disorder or that we just need to relax and stop worrying, we need to fight back. This book is my way of fighting back.
I want to tell the absolute truth about IBS, because the reality of this disorder is so often clouded by embarrassment and myths. Perhaps the most pervasive myth is that IBS means mild diarrhea and nothing more. Many people with no experience of IBS wonder why we have such difficulty in coping with our condition. This book shows why.
I'm not ashamed to tell the truth, not remotely, not anymore. IBS has been such a big part of my life that my gravestone will probably read, 'Here lies Sophie Lee, who spent most of her time in the bathroom,' but I've had as much control over IBS as I have over the fact that I need glasses. I refuse to be embarrassed by a problem that is not of my making.
In addition, I want to offer hope. Although it has taken me many years, I have finally found relief from IBS. IBS patients may well suffer for years, but we still carry on with our lives and make it through. Along the way, many of us find ways to beat our symptoms and take back control of our lives. The amount of strength this requires is very rarely recognized.
So if you're struggling with pain or marathon bathroom sessions or awful constipation, I would like you to know that I admire you a great deal just for living your life with the IBS monster. One day, I hope you kill the beast.
Disclaimer
This book has been written entirely by me. I have had IBS for many years, and this book is a record of my personal experiences and thoughts on IBS. However, this book does not offer any medical advice and should not be used to diagnose or treat any medical condition. I accept no responsibility if you try a treatment mentioned in this book and then drop down dead or metamorphose into any kind of fruit bat. If you are experiencing any bowel symptoms, please see a doctor.