IBS Tales Home > Treatment Reviews > IBS Supplements > Fibercon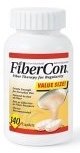 fibercon
Rated
4

/5 based on

4

reviews
Fibercon is a fiber supplement made from calcium polycarbophil, a synthetic ingredient which is not absorbed into the body, and is also found in the fiber supplement Equalactin. It also contains 244mg of calcium in every two-caplet dose. The manufacturers say that the Fibercon is specially formulated so that it does not ferment in the colon (fiber supplements which do ferment can cause excess gas).
Fibercon contains calcium carbonate, caramel, crospovidone, hypromellose, light mineral oil, magnesium stearate, microcrystalline cellulose, povidone, silicon dioxide, and sodium lauryl sulfate. Fibercon is gluten-free. It can treat symptoms of both constipation and diarrhea, although it is marketed mainly as a product for constipation sufferers. It comes in tablet form; there is no powder version.
Fibercon side effects
The most common side effects of Fibercon are skin rashes, itching and blockage within the digestive tract.
How successful is Fibercon in clinical trials?
A study published in the journal Hepato-gastroenterology looked at the effects of calcium polycarbophil, the main ingredient in Fibercon, on general IBS symptoms. Fourteen patients with IBS-diarrhea and 12 with IBS-constipation were given calcium polycarbophil for eight weeks, and their colon transit times were measured with radiopaque markers in the colon.
The patients with diarrhea reported fewer bowel movements, more solid stools, and reduced abdominal pain. Patients with constipation reported more frequent bowel movements, looser stools and less pain.
Conclusion: Calcium polycarbophil is useful in improving colonic transit, bowel movements, stool form and abdominal pain in both types of IBS. Pubmed article: Chiba T, Kudara N, Sato M, Chishima R, Abiko Y, Inomata M, Orii S, Suzuki K
REVIEWS OF FIBERCON
Review by Marie
I was diagnosed with IBS 15 years ago. I had just had my daughter and all of a sudden I would be in the bathroom at 2:00 in the morning with severe cramps, constipation and then diarrhea for about an hour. My doctor said fiber but he insisted the powdered stuff was the only thing that would work. So I used it. I stopped taking it for a while and realized I would have to take it for the rest of my life. Well, there was no way I was drinking that crap for another day and I bought some Fibercon.
Since I have IBS with constipation and diarrhea I was really worried if it could regulate both. But it did. I was so happy and I still am today. I tell all my friends about it if I think they may have IBS or just if they need some regularity. I hope this helps someone.
Review by Emmbee
I was diagnosed with IBS about 18 years ago, and I have been taking Fibercon for a number of years. It's been very helpful in controlling my condition. The type of IBS I have is the kind that can cause miserable bouts of diarrhea, and taking Fibercon has dramatically reduced these bouts. I am very regular now, with the help of Fibercon, and this has really helped me control the IBS. I have recommended this product to a couple of friends with similar problems, and they, too, feel that Fibercon is very helpful.
An additional plus is that it's so easy to take. I started out using a powdered fiber supplement of a different name. It was harder to take (had to be mixed with water and ingested and it didn't taste good). Fibercon is about the size of my multi-vitamin, and because I don't have difficulty swallowing, it's easier for me to take. In my opinion, this is a great product.
Review by Keirsten
I have had problems with alternating diarrhea/constipation for the last few years. Recently, the constipation has become more of a problem. The only two times I ever used Fibercon I became extremely constipated: once I had no bowel movement for about five days. I don't know if it was caused by the Fibercon, but I will never take it again.
Once I put a Fibercon capsule in a glass of water overnight to see what it would do. I expected to see a glass full of fluffy bulk, but the next day there sat the caplet, looking exactly the same as it did when I put it in the water. I poked at it and it fell apart, and looked like a tiny pile of kapok. For me, it was terrible.
Review by Kara
I was just officially diagnosed with IBS yesterday by my physician. This confirms what I have known for at least the last five years. (I have had IBS now for about 15 years). It is a relief and validating after medical tests, anxiety about my condition, and the implication from others that perhaps it was all in my head.
On my own I read about fiber therapy and have been taking calcium polycarbophil capsules for about two months now. My symptoms are under control and I have a solid bowel movement without much pain, if at all, every day or every other day! This was not the case before the fiber therapy.
My doctor told me to continue the fiber therapy, to watch out for foods that irritate my condition, and to manage stress as that is a big trigger for me. I have found that coffee, alcohol, egg yolks, bran, whole wheat, high fat foods, fried foods, and red meat tend to flare up my symptoms. With the fiber therapy, though, I can still indulge in the occasional French fry or glass of white wine without being sick in the bathroom all night or day long.
Fiber therapy is a Godsend! It has saved my life. It's the only thing that works for me.
Do you suffer from IBS? Have you tried Fibercon? Please contact Sophie to send in your review.